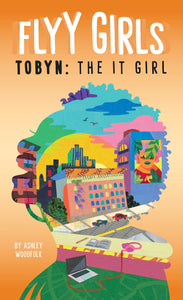 Tobyn: The It Girl #4
Regular price
$17.99
$0.00
Unit price
per
Meet the Flyy Girls. The group of girls who seem like they can get away with anything. Veteran author Ashley Woodfolk pens a gorgeous and dynamic series of four Harlem high-schoolers, each facing a crossroads of friendship, family, and love.
Tobyn Wolfe knows she's destined to be a rock star. She sings, she dances, and she's got that It factor. Her dreams are even closer within her reach when she meets Maybe Someday--an incredible all-female band--during a night out with her older sister, Devyn. Joining their band would be the perfect way to show off her amazing vocals. It's too bad her mom can't see this. She wants Tobyn to go to college and become a serious musician, not follow in Devyn's footsteps and wind up a struggling artist. Can Tobyn prove to her mom that she knows what's best, or will her dreams end up becoming a horrible nightmare?
With simply stated text and compelling characters, Flyy Girls is a series that's perfect for readers of any level.
Contributor(s): Woodfolk, Ashley (Author)
ISBN: 0593096118 EAN: 9780593096116
Publisher: Penguin Workshop 
Binding: Hardcover
Pub Date: August 31, 2021
---
Share this Product
---