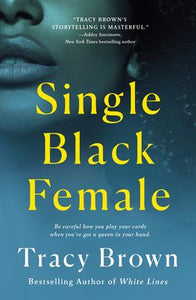 Single Black Female
Regular price
$16.99
$0.00
Unit price
per
Tracy Brown's Single Black Female is a taut, edgy, deftly spun novel about four friends grappling with the dramatic twists and turns of life, love and what it means to "make it" in America.

Ivy Donovan is a successful stylist, entrepreneur, and single mom who has been loyal to her sons' father, Michael, who's serving a lengthy prison sentence. But life has gotten lonely over the years, and Ivy wants more for herself. Michael, however, isn't about to lose his family.

Coco Norris is well-off, single, childless, and struggling with her allegiance to emotionally unavailable men. When she finds a man who seems like he can give her everything she has ever wanted, Coco soon discovers that she has taken on more than she can possibly handle.

Deja Maddox is a real estate agent who is married to Bobby, a police sergeant with the NYPD. They have assimilated, looking down on anything that doesn't fit their buttoned-up, polished life. But Deja isn't as satisfied as she would like everyone to believe. When Deja's past returns with a vengeance, she's forced to face herself as her "perfect" life begins to crumble.

Nikki Diamond is a savvy, self-made businesswoman and social media darling who lives large and with no regrets. She's also Deja's little sister and thinks her sister can have so much more than her ho-hum marriage. And Nikki is all too happy to lend a "helping" hand to make that happen.

Things come to a head when Ivy's youngest son, Kingston, is caught up in a polarizing encounter with the NYPD. Everyone must figure out where they stand, including Bobby, who suddenly has to decide if his "blue life" matters more to him than his Black life and the Black lives of those he loves.

Single Black Female highlights the nuances of Black love, the often tested bonds of Black families, what it means to face the world as a Black man and the joy and pain of being a Black woman.
Single Black Female 
Tracy Brown
Paperback: 368 pages
Publisher: St. Martin's Publishing Group
Release Date: November 2, 2021

---
Share this Product
---