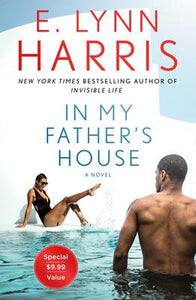 In My Father's House
Regular price
$9.99
$0.00
Unit price
per
In his final book In My Father's House, New York Times mega-bestselling author E. Lynn Harris introduces Bentley Dean, owner of the hottest modeling agency in Miami's sexy South Beach.

Only the world's most beautiful models make the roster of Picture Perfect Modeling agency and they only do shoots for the most elite photographers and magazines. They are fashionista royalty—and the owners, Bentley L. Dean and his beautiful partner Alexandra, know it. But even Picture Perfect isn't immune from hard times, so when Sterling Sneed, a rich, celebrity party planner promises to pay a ludicrously high fee for some models, Bentley finds he can't refuse. Even though the job is not exactly a photo shoot, Bentley agrees to supply fifteen gorgeous models as eye candy for an "A" list party—to look good, be charming and, well, entertain the guests. They don't have to do anything they don't want to, but...

His models are pros and he figures they can handle the pressure, until one drops out and Bentley asks his protégé Jah, a beautiful kid who Bentley treats as if he were his own son, to substitute. Suddenly, the stakes are much higher, particularly when Jah falls in love with the hottest African American movie star in America. Seth Sinclair is very handsome, very famous, and very married—and his closeted gay life makes him very dangerous as well. Can Bentley's fatherly guidance save Jah from making a fatal mistake?
In My Father's House: A Novel 
E Lynn Harris
Chronicle of Bentley L. Dean (series)
Paperback: 304 pages
Series: Chronicle of Bentley L. Dean
Publisher: St. Martin's Publishing Group
Release Date: November 16, 2021

---
Share this Product
---