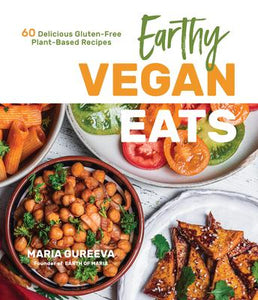 Earthy Vegan Eats: 60 Delicious Gluten-Free Plant-Based Recipes
Regular price
$21.99
$0.00
Unit price
per
Simple, Healthy Vegan Meals without Sacrificing Time or Taste

Living a more healthy, plant-based life is easy with these 60 delectable recipes. You'll be well-equipped to cook a variety of gluten-free vegan meals with as little fuss as possible--there's no need to spend long hours at the stove. Maria's recipes are the best of both worlds: They capture the comfort of satisfying, down-to-earth meals without compromising on any aspect of your diet.

Start your morning with an elegant spoonful of Earl Grey Chia Pudding, or get indulgent with a savory plate of Pea and Zucchini Fritters with Smashed Avocado. When lunchtime rolls around, dig into the packed-with-flavor Sweet Potato and Jackfruit Coconut Soup, or try some Tofu Tikka Masala with Cilantro Rice to spice up your day. Maria's dinner ideas will leave you looking forward to them all day. Serve up a sizzling Smoky Tempeh Pizza from Scratch, or a One-Pot Garlic Tagliatelle that's as mouthwatering as it is easy to make. Craving dessert instead? Grab a slice of Rich Espresso Chocolate Cake or a Vanilla Cheesecake Bar for a treat at any time of day.
You'll be amazed at how quickly you can whip up these delicious vegan meals, and soon enough you'll be dazzling your friends and family with each one you try. With Earthy Vegan Eats, cooking nutritious food has never been easier or tastier!
Gureeva, Maria (Author)
ISBN: 1645672670 EAN: 9781645672678
Publisher: Page Street Publishing 
Binding: Paperback
Pub Date: April 06, 2021
---
Share this Product
---