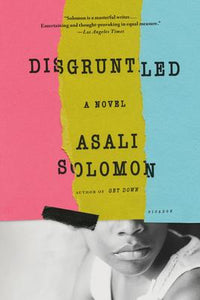 Disgruntled
Regular price
$18.00
$0.00
Unit price
per
An elegant, vibrant, startling coming-of-age novel for anyone who has ever felt the shame of being alive.
Kenya Curtis is only eight years old, but she knows that she's different, even if she can't put her finger on how or why. It's not because she's black - most of the other students in the fourth-grade class at her West Philadelphia elementary school are, too. Maybe it's because she celebrates Kwanzaa, or because she's forbidden from reciting the Pledge of Allegiance. Maybe it's because she call her father -a housepainter-slash-philosopher - Baba instead of Daddy, or because her parents' friends gather to pour out libations from the Creator, for the martyrs and discuss the community.
Disgruntled, effortlessly funny and achingly poignant, follows Kenya from West Philadelphia to the suburbs, from public school to private, and from childhood through adolescence, as she grows increasingly disgruntled by her inability to find any place or thing or person that feels like home.
A coming-of-age tale, a portrait of Philadelphia in the late eighties and early nineties, and an examination of the impossible double-binds of race, Disgruntled by Asali Solomon is a novel about the desire to rise above the limitations of the narratives we're given and the painful struggle to craft fresh ones we can call our own.
Solomon, Asali (Author)
ISBN: 1250094631 EAN: 9781250094636
Publisher: Picador USA 
Binding: Paperback
Pub Date: March 29, 2016
---
Share this Product
---