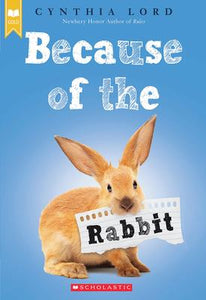 Because of the Rabbit
Regular price
$10.99
$0.00
Unit price
per
2020 ALSC Notable Children's Book
Newbery Honor-winning author Cynthia Lord has written a sensitive and accessible book about the challenges of fitting in when you know you're a little different.
On the last night of summer, Emma tags along with her game warden father on a routine call. They're supposed to rescue a wild rabbit from a picket fence, but instead they find a little bunny. Emma convinces her father to bring him home for the night.

The next day, Emma starts public school for the very first time after years of being homeschooled. More than anything, Emma wants to make a best friend in school.

But things don't go as planned. On the first day of school, she's paired with a boy named Jack for a project. He can't stay on topic, he speaks out of turn, and he's obsessed with animals. Jack doesn't fit in, and Emma's worried he'll make her stand out.

Emma and Jack bond over her rescue rabbit. But will their new friendship keep Emma from finding the new best friend she's meant to have?
Lord, Cynthia (Author)
ISBN: 0545914264 EAN: 9780545914260
Publisher: Scholastic Inc. 
Binding: Paperback
Pub Date: March 02, 2021
---
Share this Product
---