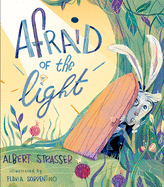 Afraid of the Light: A Story about Facing Your Fears
Regular price
$18.95
$0.00
Unit price
per
A delightfully fun and rhythmic story about overcoming our fears and learning to try something new.
Ditter Von Dapp is a quirky rabbit who is painfully afraid of the light. Having confined himself to a cozily dark cave to avoid his biggest fear, he is one day forced to light a candle in order to find a lost left shoe. Despite being afraid that the light might drive me crazy or turn me to goo, Von Dapp slowly discovers just how wonderful light can be. In his newly illuminated world, he finds that a wise mouse had stolen his shoe to teach him a valuable lesson.
With playful rhymes and incredibly rich illustrations, children and parents will delight in reading Ditter Von Dapp's journey. His realization that the light isn't something to be afraid of will help children learn to face their own fears--they just might open themselves up to a new world they never would have imagined and find a new friend in the process!
Strasser, Albert (Author), Sorrentino, Flavia (Illustrator)
ISBN: 1611808146 EAN: 9781611808148
Publisher: Bala Kids 
Binding: Hardcover
Pub Date: March 02, 2021
---
Share this Product
---